Published Feb 17, 2022
Tampa Bay Lightning's 4th Annual Bolts Chel Challenge Returns to Full Sail
NHL 22 Chel Challenge brings top EA NHL players to the Full Sail University Orlando Health Fortress for its finals match-up.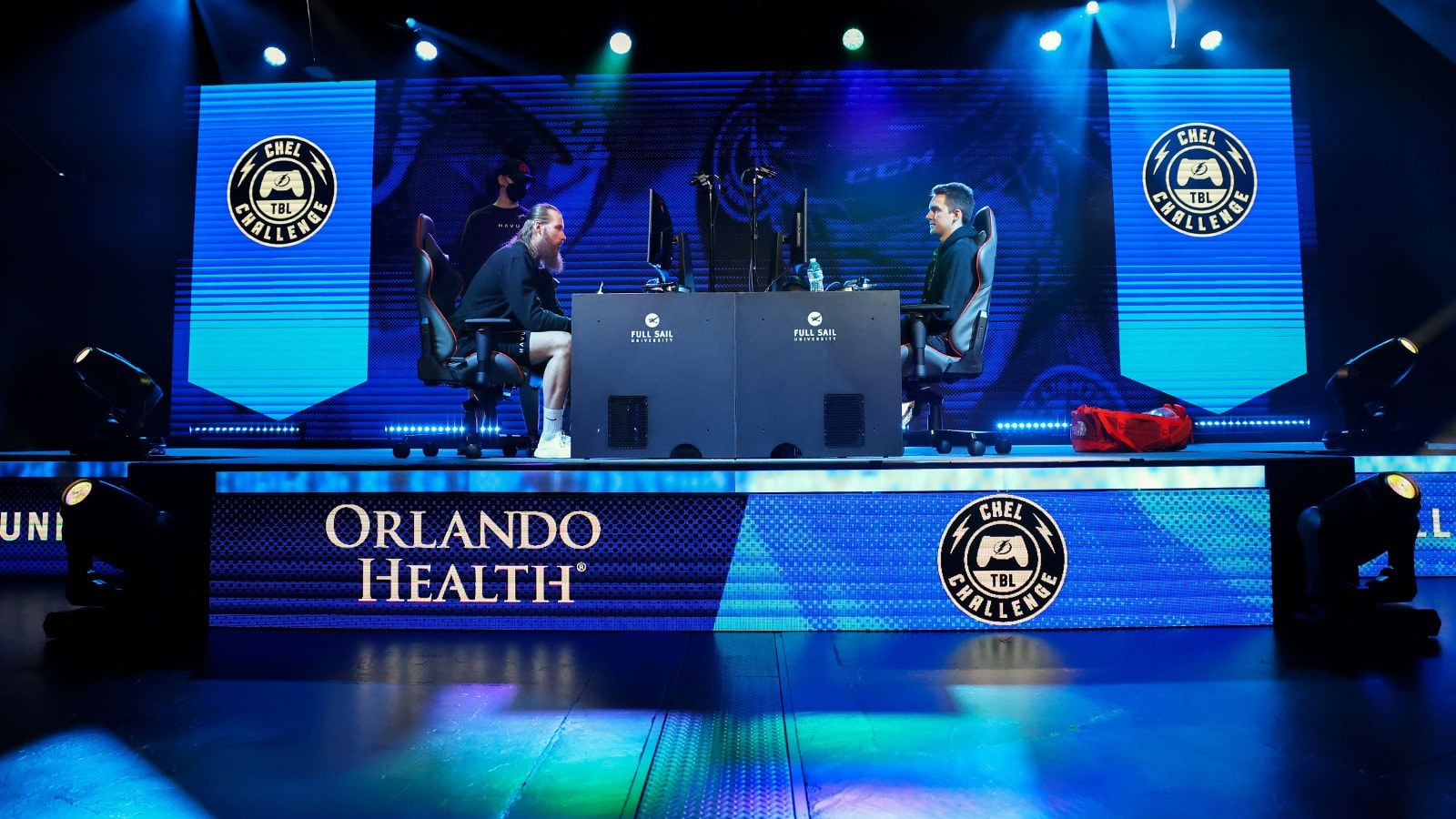 Full Sail University's Orlando Health Fortress once again served as the home to Tampa Bay Lightning's Bolts Chel Challenge Finals, which featured the top four NHL 22 players from North American and European regions competing for a $6,000 grand prize.
Hosted by streamer, content creator, and friend of Full Sail, BigCheeseKIT, the live event saw the university's collegiate esports arena decked out in Tampa Bay Lightning's signature blue while the top players from Europe and North America battled it out for the top spot at gaming stations on the Fortress' main stage. As the action unfolded in the Fortress, Dave "Cam" Halbert and Anthony "Griz" Scibilia provided commentary for the live-streamed finals to nearly 7,000 viewers on behalf of Rare Drop, the official content partners of Bolts Gaming.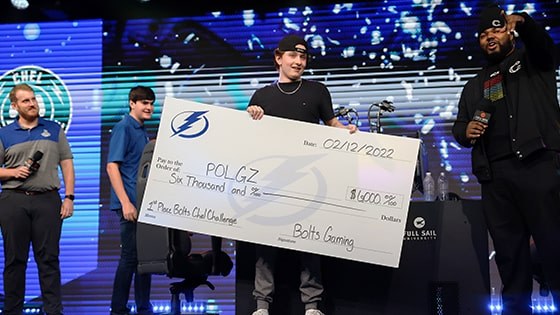 Winner Ethan "Polgz" Polgar on the main stage holding a check for $6,000 with host Big Cheese to his left.
Veteran and rookie players from the NHL 22 competitive gaming community including three-time NHL Gaming World Championship European champion Erik "EKI" Tammenpää managed to dominate qualifiers and secure a trip to sunny Florida to play in Bolts Gaming's first 1v1 LAN event since 2020. In spite of the fierce competition from American and EU counterparts, it was Canadian player Ethan "Polgz" Polgar representing North America who managed to declare a thrilling victory and claim the $6,000 grand prize.
The Full Sail student community wasn't left out of the fold during the live event. Sports Marketing & Media bachelor's student Ethan Jackson was awarded a $5,000 scholarship on behalf of Bolts Gaming and Tampa Bay Lightning in recognition of his progress in the degree program focused on marketing and content creation in sports business.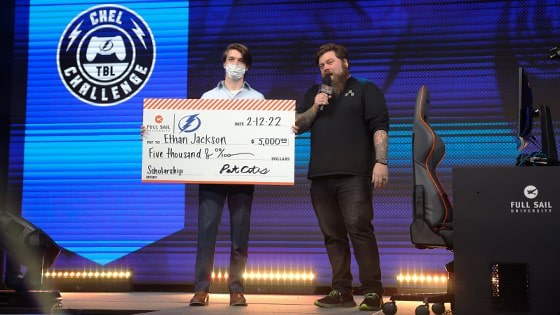 Sports Marketing and Media student Ethan Jackson receiving his scholarship during the event in the Full Sail University Orlando Health Fortress alongside Full Sail Esports Strategist Bennett Newsome.
Missed the live stream? You can catch the VOD on the official Lightning NHL Twitch channel.