Published Nov 2, 2022
Armada Students Receive NACE All-Academic Awards
Student athletes and leadership awarded by collegiate esports league for outstanding academic achievements.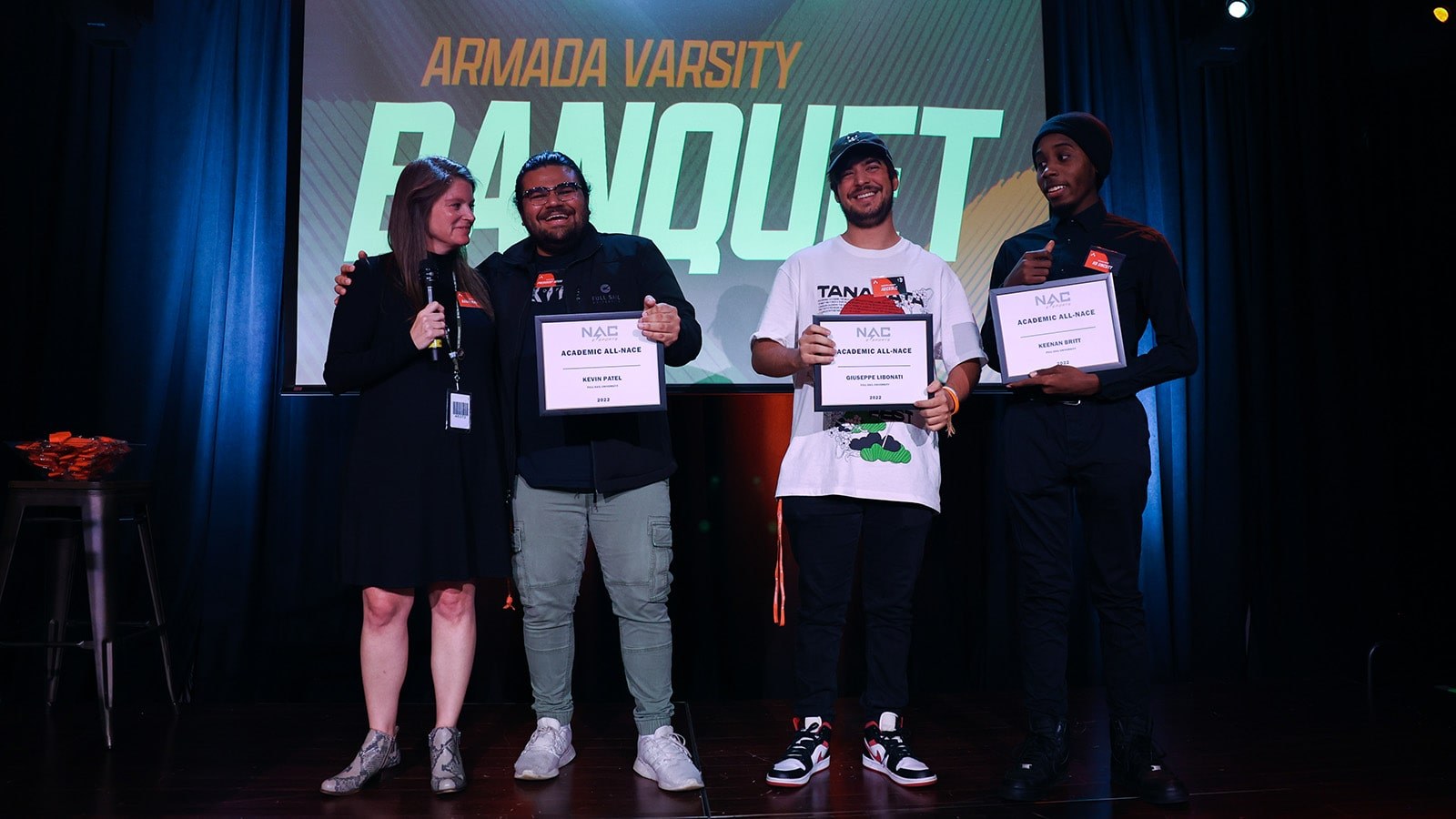 Full Sail Armada varsity athletes and student leaders were recently recognized for their academic performance as recipients of the NACE All-Academic Award. Presented by the National Association of Collegiate Esports (NACE), the awards were given to four Armada students who were selected for maintaining near-perfect grades during the 2021-2022 season.
"NACE really believes in the value of esports in education, and how skills earned in varsity competition can provide a strong foundation for career development," says Michael Brooks, Executive Director of the National Association of Collegiate Esports. "The NACE All-Academic award recognizes students who continued to maintain a minimum 3.5 GPA while also competing at the varsity level."
Armada Student Club President and former Rocket League player Kevin Patel (Game Design), Rocket League player Alejandro Jaramillo (Information Technology), Super Smash Bros. varsity athlete Giuseppe "JuiceDLC" Libonati (Game Design), and Stream Team creator and Smash athlete Keenan "KB_UNCUT" Britt (Film bachelor's) were the Armada members who were award recipients.
Celebrated at the recent Armada Varsity Banquet, the students were recognized on stage in front of fellow community members for their ability to manage the demanding month-to-month schedule of a Full Sail degree program along with their responsibilities as varsity athletes.
"I feel really great about the awards being so well-rounded with folks that are definitely committed to their schooling but also committed to their disciplines," shares Director of Esports and Project Development Sari Kitelyn. "Whether it's casting, support, leadership, or gameplay, our students represent such a wide net in esports. I couldn't think of four better students to represent our program with academic success."
Interested in joining Armada? Learn more about our teams and tryouts here.