Published Mar 23, 2022
Esports at Full Sail's 12th Annual Hall of Fame Week
Live events, networking opportunities, and panels focused on careers in the esports industry were a major feature during Full Sail's annual Hall of Fame celebration.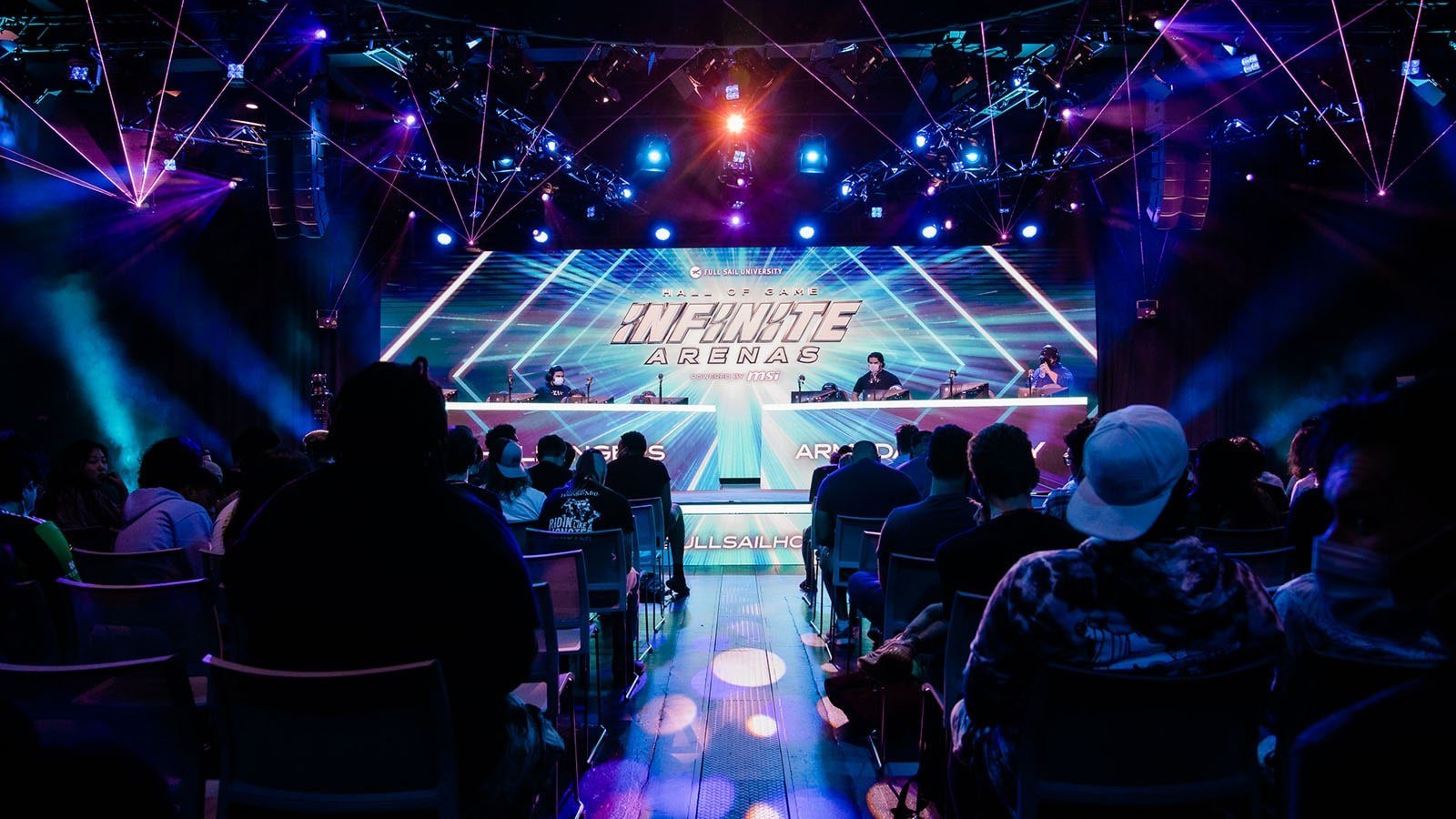 Full Sail University's 12th Annual Hall of Fame Week ushered in another great year of esports for students on campus and online with a wide range of events. Throughout the week, students, graduates, faculty, and special guests were able to engage with the Full Sail Armada community with events including a live esports tournament, networking event, conference-style panels, and more.
Hall of Game: Infinite Arenas
Kicking off Hall of Fame Week, the Full Sail University Orlando Health Fortress saw the return of Hall of Game with its latest installment: Infinite Arenas. Armada varsity athletes went head-to-head against student challenger teams – comprised of campus and online students who bested the competition in previously held online qualifiers – in Rocket League, Apex Legends, and Halo Infinite. Students, grads, and visitors were able to get in on the action with free-play gaming stations at the venue's outdoor patio fighting arena, which included Super Smash Bros. Ultimate hosted by Game Art student and Armada Stream Team member Miles "A1phacino" Church.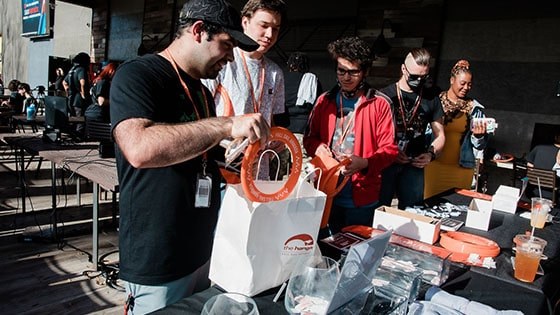 Students receiving Armada swag during Infinite Arenas at the outdoor freeplay fighting arena.
Competitors and audience members walked away with amazing prizes to enhance their gaming setups with gear from event sponsor, MSI. Student challenger teams brought a stunning upset to Armada Varsity, beating them in both Rocket League and Apex but Armada's impressive Halo Infinite varsity team continued to dominate in the collegiate space, beating the challengers in the best-of-three finals.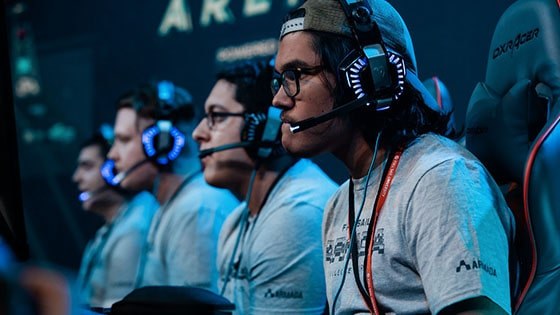 Star player "DeltaVine" competing on stage with fellow Full Sail Armada varsity Halo Infinite players during the event.
Armada Connects
In a special Armada-sponsored networking event, athletes and community members past and present had the opportunity to gather in The Treehouse for an evening of connections, food, Armada swag, and of course, a little gaming. Armada club presidents from past seasons joined current president and Game Design student Kevin "Kevurnio" Patel to celebrate four years of collegiate esports at Full Sail along with the campus community. Current club members were able to interact with Armada staff members, meet fellow athletes, and meet grads in the industry from companies including eUnited, Evil Geniuses, and XP League.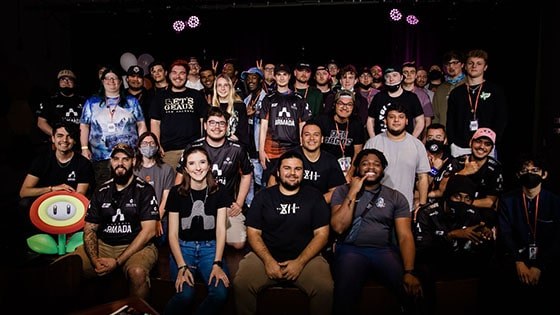 Armada students past and present gather for a photo on stage in The Treehouse during Armada Connects.
Industry Panels
It wouldn't be esports at Hall of Fame without panels featuring industry professionals and grads currently working across the esports industry at both collegiate and pro levels. Sharing their experience and advice, graduates including Matt "Burns" Pothoff (General Manager, eUnited,) Zoe Monday (Graphic Designer, Evil Geniuses), Chantoni Grant (Director of Esports, North Carolina Wesleyan), and Justin Burnham (SVP with Subnation) were featured on panels covering a variety of topics in the field of competitive gaming.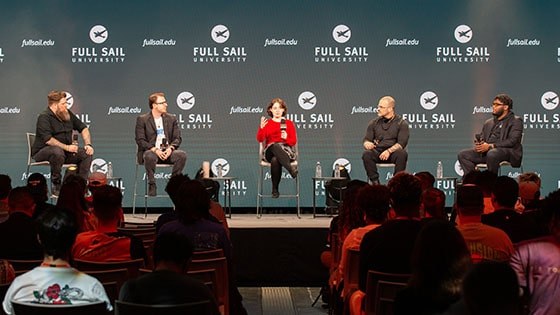 From left, Moderator Bennett Newsome on stage with panelists Matt "Burns" Potthoff, Zoe Monday, Justin Burnham, and Chantoni Grant during the Careers in Esports panel in the Full Sail University Orlando Health Fortress.
Former Armada presidents Ethan Hayes (Head Coach, West Virginia Wesleyan), Nathan Duke (Manager of Esports Programs and Facilities, Butler University), and Megan Danaher (Head Esports Coach, Viterbo University) joined Matt and Chantoni for a conversation on working with esports teams while Justin and Zoe were joined by Austin Remer (Senior Designer, Full Sail University) to discuss design and branding careers and applications in esports. Other notable panels featuring grads in the esports industry included Diversity and Inclusion in Video Games and Careers in Esports, moderated by Bennett Newsome (Esports Strategist, Full Sail University.)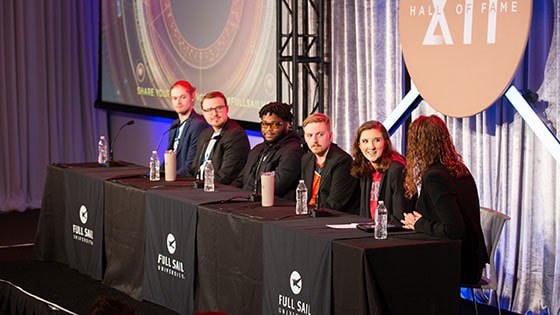 From left, graduates Nathan Duke, Matt "Burns" Pothoff, Chantoni Grant, Ethan Hayes, and Megan Danaher on stage during the Working with Esports Teams panel.
Gaming, film, and esports fans were treated to a special screening of Free to Play, a 2014 documentary on the Dota 2 esports scene, followed by a Q&A with Hall of Fame inductee Jeff Unay (Artist, Valve, Director/Producer, Lineage Film), who worked as a cinematographer on the film.