Published Oct 11, 2023
Full Sail Armada Announces 2023-2024 Student Officers
Get to know the new student leaders of Full Sail's collegiate esports organization.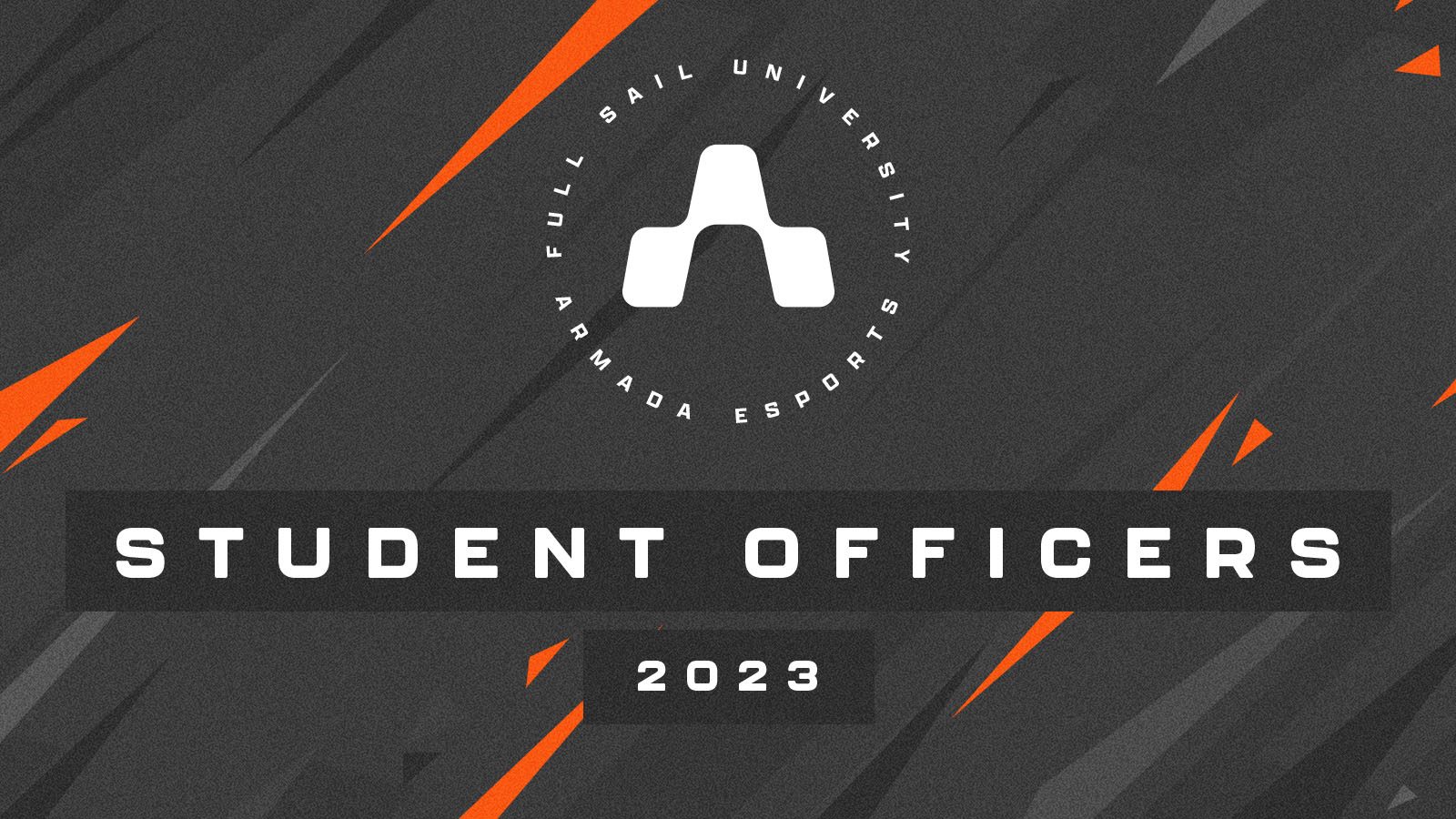 Full Sail Armada is proud to announce its latest roster of student officers. As last year's club leaders graduate and move on to careers in the industry, a new round of officers is ready to lead Armada's varsity teams and club members through organization, community, and competition.
"Our club is the foundation of the Armada community. Student leadership helps ensure that we focus on community first, giving all students a voice," shares Sari Kitelyn, Director of Esports at Full Sail. "I love how well-rounded this leadership group is. Different degree programs, career goals, gaming interests, and backgrounds, they really do represent our student body so well, and have a fierce dedication to providing opportunities for Armada students."
Jagger "Jagerbommbastic" Fenwick - Student President
Game Business and Esports bachelor's student Jagger Fenwick is a caster for Full Sail Armada alongside his new role as Student President. The first caster to be appointed to the role, Jagger leads by example, and has gained experience in events including Hall of Game, Armada Club Gatherings, and external events such as the Super Girl Gamer Pro co-ed tournament. When he's not leading the club, you can find him casting or rooting for Armada's long-running Smash team.
Jenna "JAndyObrien" O'Brien - Student Vice President
A varsity League of Legends player, Jenna O'Brien is a Film bachelor's student who joined Armada in 2022. Since joining, Jenna has become a steady fixture observing for esports events on campus including the XP League North American Finals. She loves to support the Armada Overwatch team when she isn't grinding in League and finds the most joy playing with her teammates in the Armada Practice Space.
Melanie "ShakeyWakey" DeLeon - Online Student Vice President
Returning to represent online students and athletes is Game Business & Esports bachelor's student Melanie DeLeon. A member of the varsity Stream Team, Melanie has continued to blossom with her time in the organization, gaining experience as an athlete, a team captain, and now serving in her second year as Online Student Vice President. Even as an online student, Melanie has made a lasting impact on the community, coming to campus for events such as Hall of Game: Infinite Arenas in 2022.
John "Glitch" Harney - Armada Officer
Armada was a driving factor for Game Development bachelor's student John Harney when he chose to pursue his education at Full Sail in 2021. A member of the Full Sail Armada Stream Team, John gives back to the club through his excitement, joy, and affinity for cosplay. One of John's most memorable Armada moments includes the creation of the club's Minecraft server and enjoys rooting for fellow athletes on the Smash team.
Rajah "Claus" Conteh - Armada Officer
Super Smash Bros. player and Game Business and Esports bachelor's student Rajah Conteh has only one season under his belt as an Armada athlete but has already made a positive impact on the community. Working on events like Hall of Game: Paragon, Rajah has also proven himself as a valuable player, recently taking second place at CEOtaku 2023 in Orlando.
Interested in joining Armada? Learn more about our teams and tryouts here.