Published Jan 12, 2022
Full Sail Armada: 2021 in Review
2021 saw Full Sail's collegiate esports organization grow alongside a larger focus on community, players, and academic success.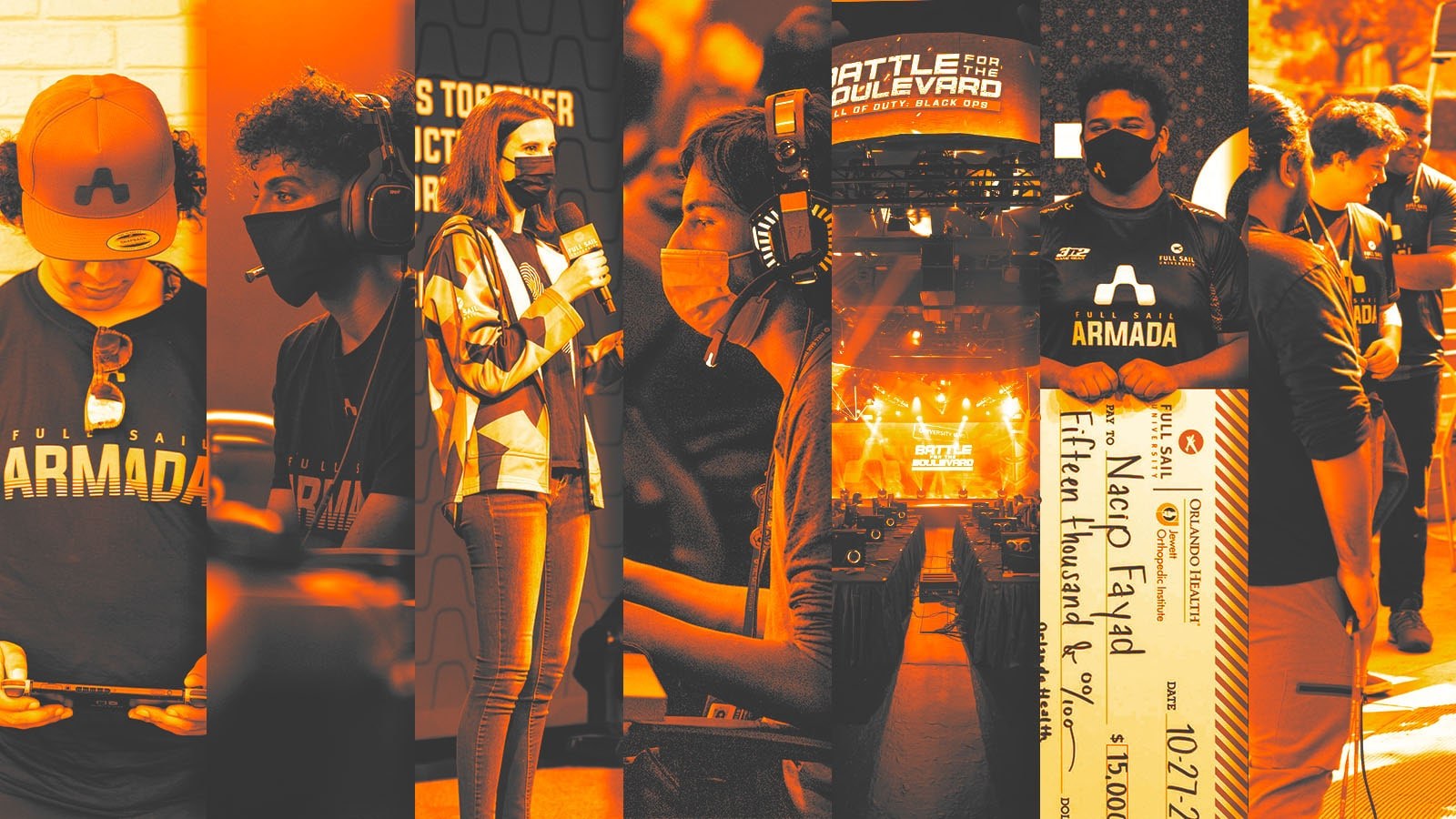 With another year in the books for Full Sail Armada, the esports community at Full Sail continues to grow and establish its presence as a leader at the intersection of events, competitive play, and academic success. 2021 saw the introduction of Full Sail's first-ever esports scholarships, a return to campus for tryouts and events, and a continued commitment to players and post-graduate success.
Varsity Teams and the Armada Community
Armada collegiate varsity athletes continued competitive play against rival universities in leagues including NACE Star League and the College Call of Duty League, while players and community members alike had several opportunities to connect in person and online throughout the year. A return to campus for events like the fall tryouts held in the Full Sail University Orlando Health Fortress and laid-back community gatherings like the Armada Invasion helped reinstate the sense of community and camaraderie lost during the early months of the pandemic.
Players turned out for competitive play with notable victories and placements throughout the year in titles including Call of Duty, Super Smash Bros, and League of Legends. Armada varsity athlete Nicholas "Schweeb" Levisque represented Armada League players well, placing second overall in the Red Bull Solo Q Orlando Qualifier.
2021 also saw the debut of esports scholarships at Full Sail. Four students were awarded 2021 Orlando Health Jewett Orthopedic Institute and Full Sail University Scholarships, with funds ranging from $10,000 to $15,000. These scholarships are a key component of the multi-year naming rights partnership between Orlando Health and Full Sail University; the university's on-campus esports arena was officially renamed as the Full Sail University Orlando Health Fortress, and $50,000 in scholarship funds are to be distributed to qualifying students each year.
Continuing the trend of putting the Armada community center stage, Full Sail launched All Access, a bi-monthly series covering esports updates and creating original content focused on players, community, and Armada staff.
Events and Industry Experience
Events were in full swing throughout 2021. From working with external organizations around the gaming and esports industry to hosting university-led events, students and players gained valuable experience in tournament organization, event production, and in-person competitive play.
Students like Daniel "Takasu" Hernandez and Megan "PeptoAbysmal" Danaher were able to work behind the scenes during major events hosted on the Full Sail campus including the Growing Bolder Among Us tournament. Students and grads also took their experience on the road, working in show production roles for events like XP League's North American Finals.
On-campus and virtual events also presented opportunities in tournament organization, LAN play, and networking for students across the Armada roster. Online events like Stream of Thought gave students and staff the space to engage with Full Sail's LGBTQ+ community, helping to build a more inclusive atmosphere in collegiate esports.
Invitations to produce content for events such as Dreamhack Beyond allowed the organization to position itself as a resource for information in the esports space, curating panels that shared industry expertise to viewers across the video game industry.
In-person play returned in 2021 with the return of events like Battle for the Boulevard and the introduction of new student-led initiatives like the All Out Armada Super Smash Bros. tournament. The Armada community also celebrated a focus on the future of collegiate esports during the Scholar's Cup Rocket League tournament, which offered scholarship opportunities to high school students.
Accolades and Industry Recognition
The Full Sail Armada community, leadership, and contributions to the larger esports ecosystem were recognized several times throughout the year from entities throughout the industry. As finalists in categories in the Women in Games Awards and the Tempest Awards, Armada continued to define its role as not just a collegiate competitor, but also as a resource for education, opportunity, and inclusion.
Several of the women leading the esports program at Full Sail were recognized in Orlando Magazine's Best of ORL 2021, and were also featured in an article on "Women Changing the Esports Landscape" posted by the Orlando Economic Partnership.
Full Sail Esports Strategist Bennett Newsome, along with other Armada faculty and staff, lent expertise in building a collegiate esports program to fellow universities and organizations during the Florida Citrus Sports Collegiate Esports Symposium, strengthening ties to leaders throughout the industry.